Faribault Daily News–March 30, 2012
http://www.southernminn.com/faribault_daily_news/news/local/article_5740228c-c62a-528f-a4f7-9f4e5a379388.html
By Allison Roorda
"This is my partner, Adam," says first-grader Henry Lu. "It used to be Noah, but now it's Adam."
Henry is one of 12 first-grade students at Faribault Lutheran School who are paired up with one of 12 eighth-grade students. The partnership has been a part of FLS for more than 16 years, but this year the program has really taken off.
"In the past year, we've gone sledding if they meet their reading goals," said first-grade teacher Stacey Nelson. "We played games, we did art projects with them."
The eighth-grade partners have been a part of the first-graders' lives at school all year. Their main task is to visit the first-grade classroom every Friday to help the younger students with their reading. But this year, the eighth-grade students have been a little more involved.
"Once we played games in the gym," said first-grade student Justin Drevlow. "What's the one where you sneak up on people?"
"Secret Agent," answers his eighth-grade partner Travis Wegner.
The classes have spent more time together this year mostly because of geography. The first-grade class used to be located in the Peace Lutheran Church, south of the current campus at Trinity Lutheran. This is the first year all the grades are in the same building.
"I think they've bonded more," Nelson said. "We're able to do more with them this year."
One of the more recent projects was a Valentine's Day party. The eighth-grade students helped their younger partners make Valentines boxes. Nelson said she is not above using time with the eighth-grade students as a reward for her kids because the first-grade students enjoy the program and the time with their partners.
"It's a great group of kids and a great project for the eighth-graders, too, because they can see what kind of role model they can be," Nelson said.
Since the program has been a part of the school for so long, some of the current eighth-grade partners can remember having their own older partners as first-graders.
"I remember his name was Nicholas," Travis said. "I can't remember, but I think I was a good reader. They walked from Trinity to come read, and I would be very excited."
Now as eighth-grade students, the older kids are just as excited being the role models in the partnership.
"I think it helps us as eighth-graders to remember what first grade was like," said Tasha Duggan. "Or for the first-graders, it helps to have someone older hang out with them.
Hanging out with older kids is the fun part of having a partner, said Justin.
"They become the leaders," said Joyce Kromminga, who teaches seventh- and eighth-grade English at FLS. "These little guys look up to them so much. I think they feel more responsibility. They take their role very seriously."
With all the grades at the same building, the students have more opportunities to co-mingle. Some seventh-grade students are already visiting the kindergarten classroom, preparing for the day when the two classes become partners in first and eighth grade.
Henry has had two eighth-grade partners this year, with Adam taking over most recently.
"I like to play games with him," Henry said. "I read with him. It's fun because he knows words that I don't know."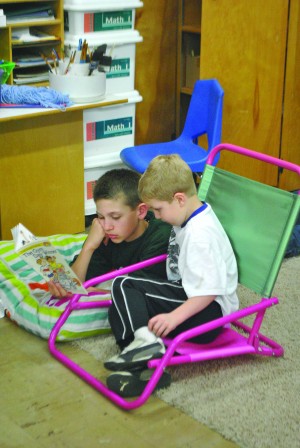 First-grade student Justin Drevlow reads a book with his eighth-grade partner, Travis Wegner.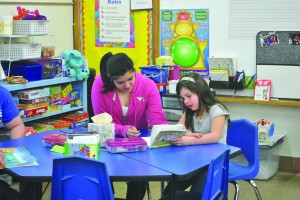 Tasha Duggan, an eighth-grade student at Faribault Lutheran School, goes over a book with first-grader Gabriella David.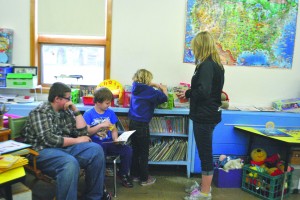 The Faribault Lutheran School eighth-grade students visit the first-grade classroom at least once a week. The partnership program has become more frequent this year with both classes in the Trinity Lutheran Church location.